Sam Media will be the event sponsor for MEF Connect in Kuala Lumpur. James Williams, Director of Programmes at MEF (Mobile Ecosystem Forum) will be hosting this in-person event on January 12th, 2023 from 9am to 5pm in our Kuala Lumpur Office: Menara Ilham Suite 02, Level 11, No. 8, Jalan Binjai, 50450. We are pleased to say that registration is now open. The event is for a maximum of 80 people.
MEF Meet-Up
The evening prior to MEF CONNECTS, on January 11th, 2023 from 6pm to 10pm you will have the opportunity to attend the MEF Meet-Up. This networking opportunity takes place in one of the most beautiful rooftop restaurants of Kuala Lumpur: Fuego at Troika Sky Dining, just across the street from the Sam Media office: Level 23A Tower B, The Troika, 19, Persiaran KLCC, Kuala Lumpur, 50450. Further details and the registration link for this event are HERE. (NB. registering for the MEF CONNECTS event on January 12th will not automatically register you for the MEF Meet-Up – you need to do that separately) .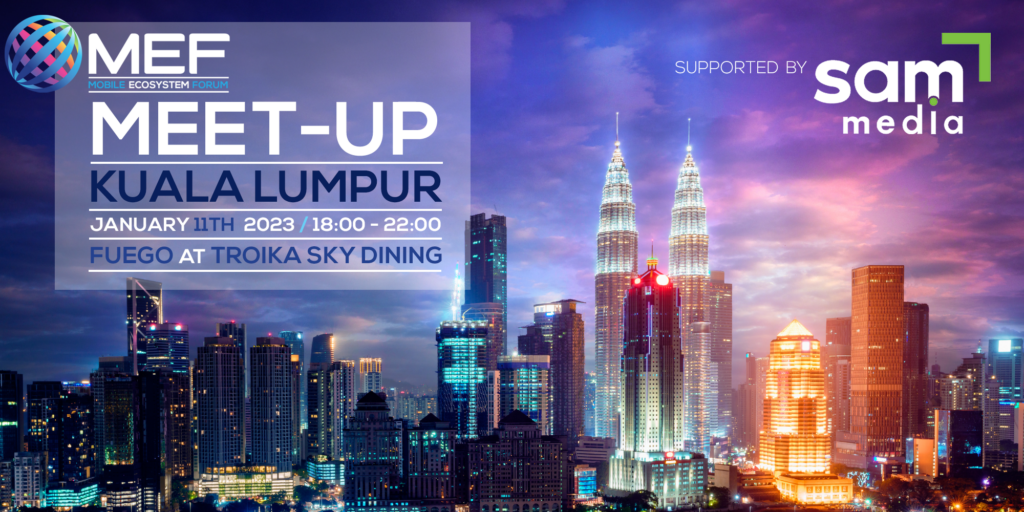 MEF CONNECTS
MEF CONNECTS on January 12th will bring together stakeholders from across the Mobile Content and Payments industries in Malaysia and from across South East Asia to discuss ALL the relevant issues. MEF got some great content lined up for you with an array of short 30-minute panel discussions planned:
Panel #1: Ad Fraud & Digital Payments Fraud – Will The Industry Ever Be One Step Ahead Of Bad Actors?
Panel #2: Customer Care & Data – How To Leverage The Data Opportunity
Panel #3: Products – How To Develop & Deliver Products That Surprise & Delight
Panel #4: Compatibility – Can Products Really Meet The Needs Of Every Target Market And Audience?
Panel #5: Rich Messaging, Conversational Commerce & CPaaS – The Roles They Play In Driving Brand Awareness, Brand Loyalty & Customer Experience
Panel #6: Convergence Of Telco, Media, Communication, Commerce & Payments – What Will ICT Look Like In 2025?
Panel #7: Carrier Billing – What Is Its Strategic Importance To Telcos?
Panel #8: Personalisation Through Monetisation & Segmentation – Media + CPG / FMCG?
If you will be attending this event and are interested in speaking on one of the above panels then please email james@mobileecosystemforum.com.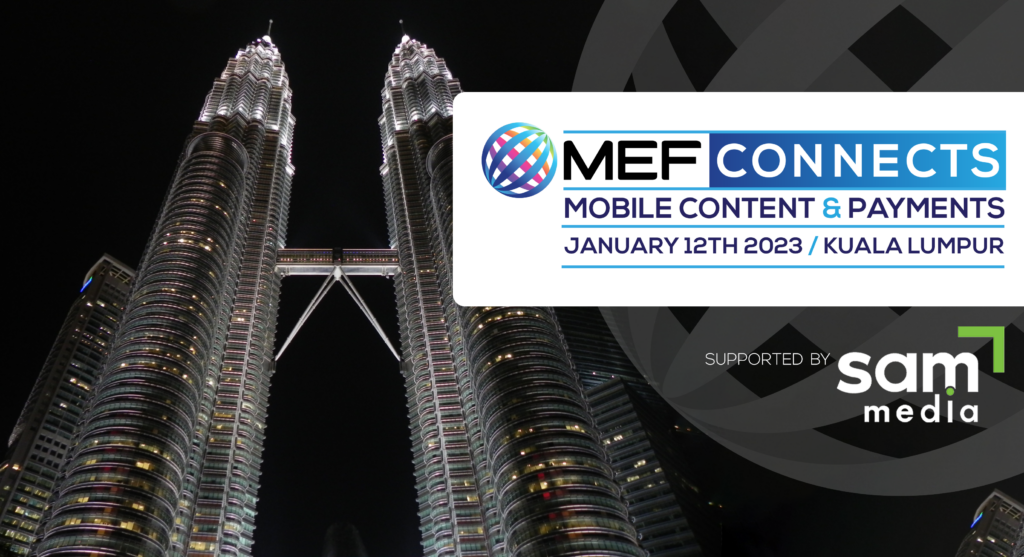 Let's catch up
We are delighted to be the sponsor of this event, and we are looking forward to have you over in our Malaysian office. Do you want to meet up after the event, to discuss your (potential) business with Sam Media? Our full Management Team will be there during the week of the event. We are looking forward to catch up with you.
Hotel
We can recommend a stay in the Element Kuala Lumpur Hotel. It offers sophisticated accommodation and is based in the same building as Sam Media. The accommodation features stylish interior design with neutral palettes and comes with a work desk. Element Kuala Lumpur's on-site restaurant offers an array of healthy delicacies, while the in-house bar serves a hefty menu of drinks.