Our employee spotlight section brings attention to our most important asset – our team members. In their own words, employees tell what it's like to work for Sam Media and what makes it different from other companies.
How did you get into the mobile entertainment industry and how long have you been part of it?
I started in this industry in 2007. I was a data capturer for a content provider on a promotion they were running. It was a part time student job and then they hired me permanently, and I got hooked. I moved on after that and tried something else at a conference calling company. I was with them for a few years and then went back to this industry that I know and love. I moved to a regulator, WASPA, they regulate the South African mobile payment market. And then Sam Media found me.
What exactly do you do at SAM Media?
I am the Quality Assurance and Compliance Manager and oversee this department. What we do is ensure that all our marketing and products work optimally and are in line with all the different local regulations. On a daily basis we use various testing tools to test the functionality of our products, and we use our findings to optimise the user experience.
What was the decisive factor for you to want to work for Sam Media?
A few things actually. The biggest pull factor for me was to be able to work internationally with such a diverse group of people from 31 different nationalities – I gained invaluable experience working for the regulator and I love being able to apply that knowledge to working in so many different countries around the world we are live in.
Many of my colleagues have also become friends. We travel together, socialise together, play sports together.
How have you found our business culture to be?
Oh, I absolutely love it. I am excited to come to work everyday, because I work with some of the most truly amazing people. Because everyone comes from somewhere else. You learn so much about other countries and cultures. My colleagues have so much experience that I get to learn from them even more. Many of my colleagues have also become friends. We travel together, socialise together, play sports together.
What aspects of our purpose do you identify with?
I identify most with our innovative character. That's where my job is really fun. When I can play with one of the many brilliant products our team comes up with. It's like being a kid in a candy store.
What are your personal goals regarding your work at Sam Media?
I want to continue learning and exploring. I might want to work in our Amsterdam office some day, because I fell in love with that city when I was once there. On the other hand, I am currently enjoying being in Kuala Lumpur a lot. I am able to explore a part of the world that I never explored, which is phenomenal. Living here took me out of my comfort zone, which is great.
Do you have a favourite product from the Sam Media range?
Yes I do, and it's everyone's favourite! XR Academy. Some of the new features we are adding to it are mind blowing, like the AR models. And we keep adding extremely cool features to this product. And of course I am very very excited about Holozonia, the product we recently launched at World Telemedia.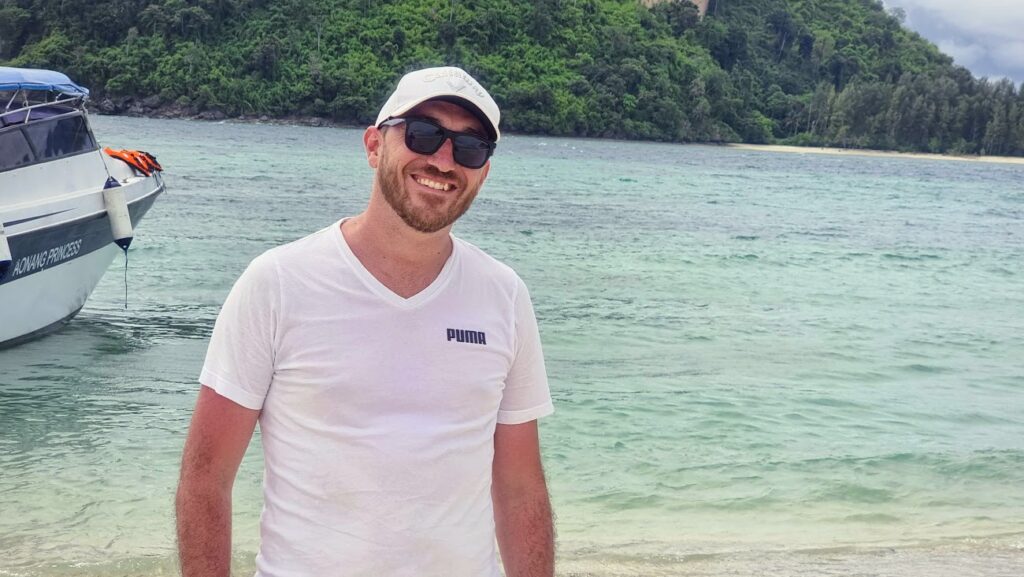 Please give us an insight into your individual working day. Do you have any rituals?
I walk in and greet all my colleagues. Then while my coffee is brewing I start the playlist of the day to get everyone in a good mood. Then I go sit down at my desk and plan out my day based on overnight requests I received from our other offices. And that's when the testing fun starts.
Which principles do you follow – at work and in your private life?
I care most about ethics and I love to be responsible to assure that we always do things the right way. I strive to be diligent, detail oriented and sociable.
How would friends and family characterise you?
I really care about my friends and family and I feel they see me as a loving and funny person. I am all about living, laughing and loving.
What do you like to do in your free time?
Fortunately I made great friends at Sam Media and I spend a lot of free time with them. Colleagues introduced me to scuba diving and I got absolutely hooked to it. Meanwhile I became a certified scuba diver. We also play badminton together and we have a standing weekly whisky appreciation evening.
Would you rather be a teeny-tiny elephant or a colossal hamster?
I think being a colossal hamster would be fun!